Casting and Forging items
Pole Line Hardware Fittings
We supply 11kv cross arm, intermediate cross arm, hot dip galvanized BS729 grade, section cross arm, cable support channels 33kv, tie rod insulator brackets 'H' pole section. Pole clamps supporting brackets and 'D' iron brackets. Material mild steel, grade accordance with S-355, ASTM A36.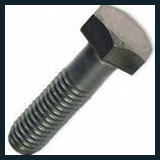 Stud Bolt with Heavy Hex Nut
We supply fully threaded studs in various types in grade ASTM A 193-B 7 and heavy hex nut ASTM A 194-2H/2HM. Our range also includes threaded rods in grade B7 in length of 3.65 mtrs.
Foundation Bolts
Foundation bolts range is 20x400, 30x600mm, 30x900 and 30x1000mm with hot dip galvanized in grade 4.6 and 8.8.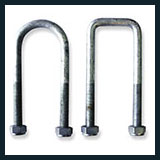 J Bolts & U Bolt
Our manufacturing range for J Bolt and U Bolt starts from 10mm to 36mm. Grade 4.6 and 8.8. Finish Black and Hot Dip Galvanized.
Anchor Fasteners
Size 10x100, 10x120 and 12x120, grade 4.6 and 5.6. Finish Zinc Yellow Passivated